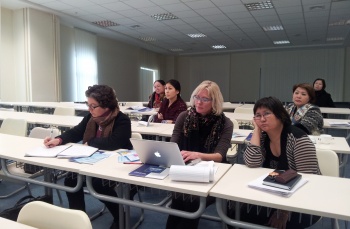 Partnership appointment with the experts of Wisconsin university
On 16 January of 2013 at the Nazarbaev University Chair of Kazakh language, literature and culture has held partnership appointment between the experts of Wisconsin-Madison University state the Wisconsin USA and the experts of KAZTEST – citizens' Kazakh language level assessment system of National testing center.
Representatives of Wisconsin-Madison University Deputy Associate Director Language Institute, Associate Director Russian Flagship Center Dianna Murphy, a Associate Professor Department of Slavic Languages College of Letters and Science Karen Evans-Romaine, from the Nazarbaev University party – Head of subdepartment Kurmanbay Gultas Sainkizi, professors Kuzekova Zeinekhan Seitkhankizi, Aliszhanov Sarkit Kalimuly and teaching staff of the Chair, from the National testing center party – experts implementing directly the KAZTEST system head of the State language developing board Abdikhalikov Aidos Tursinbayuly and head of the information-technological Department Tlemissov Sayazhan Salimzhanuly have taken part at the appointment.
During the appointment has held the presentation of the KAZTEST system and exchange with ideas. Foreign experts showed keen interest in the KAZTEST system. Matters about contribution of KAZTEST system in forming speech skills of teaching Kazakh language were under the discussion
At the end of the appointment were looked through the capabilities of effective co-operation with foreign experts.